Who is Mensa? And why should you join us?
In Leif Gantvoort's words:
Qualifications and Process to Join Us
You may have already qualified for membership. Simply, the only thing required is scoring in the top 2% of any of a number of standardized tests — some of these going back to elementary school, and still obtainable through your school district. Review the qualifications at the link below, and submit your information. Then give us a contact. We at Manasota Mensa would love to meet you, and cheer you along in the process. If none of your previous tests are available, we offer local, periodic testing.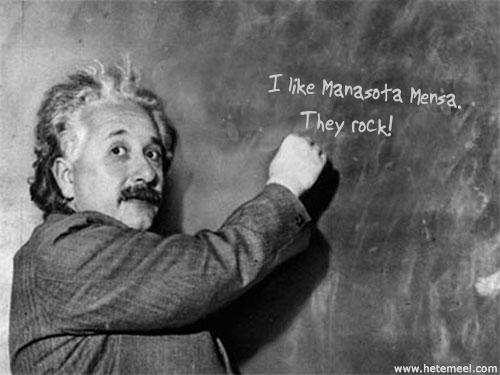 Unsure if you qualify? Take the sample test
If you'd like to know if you qualify, Mensa offers an unofficial practice, or sample test. Though this 30-minute test will not qualify you, it will give you an equivalent score that correlates to your IQ range, and a strong indication of success. Click here for this info and registration to take the Practice Test.
While it is true that the official Mensa-administered qualifying test may be taken only once, this is for reasons of score validity. And any number of tests remain to qualify, future, current or past. Take a look here to see if you've already qualified, in which case, you simply need to submit the evidence.
Ready to go? Take the qualifying test
If you're not able to get transcripts of your previous qualifying test results, Mensa offers testing. We offer this locally about once a month, with many locations around the state and nation. Take a look at Mensa's scheduling calendar and registration. The fee is $60; but on certain months this is offered at a discount of perhaps half-price. As always, contact us here locally, with any questions.
On that registration page, you will see that individuals can only take a test battery once; but this doesn't mean that a non-qualifying test means that you are forever out. Some of the reason for this is that the test is consistently the same, and having taken it once will skew the results from having learned the test itself. However, there remain more than two hundred different qualifying tests, any of which will be acceptable. Alternative testing through a psychologist, is one example. So, it's not necessary to be overly concerned. However, if you'd like a warm-up, take the practice test.
And to answer the question in advance, how might I "study up" for it, it's really not that kind of test. It's more a test of how your mind processes. And chances are, you're already in the hunt if you've read this far. What to do in prep? Simply get a good night's sleep, and come refreshed and relaxed.
Submit the evidence
Once you have the test results, either of the qualifying test, or of those previously done, you simply submit the evidence.