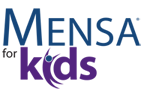 In one of the most amazing resources on the web, Mensa for kids has lesson plans, suggestions, games and much more to assist you in your child's development.
Qualify?
Take the sample test and see.
Mensa's a great organization to join. If you wonder if you qualify, take the sample test and see. If you're ready to go, take the qualifying test, or submit past test results.